Feel the vibe of autumn around your home with these fall door decorations you can make from the harvest and abundance of your homestead!
RELATED: 20 Curb Appeal Front Door Ideas To Ring In Autumn
In this article:
Easy Fall Door Decorations You Can DIY on a Budget
1. DIY Indian Corn Wreath
Owls, apples, pumpkins, leaves, and wreaths abound: Fall is here! Embrace the season with your own DIY fall decorations.
First, jazz up any door at home with this lovely and vibrant DIY Indian corn wreath with fall's blustering colors. Indian corn goes perfectly with a rustic theme decor.
It gives a harvest vibe in time for Thanksgiving and goes with the entire autumn season — providing any door the holiday cheer it deserves.
2. DIY Door Tags
Chic and simple! These fall-themed DIY door tags look elegant and are fun ways to create a seasonal vibe to outdoor decor.
It's a fun project for you and the kids, and the neighbors will love the holiday cheer the decorations give to the neighborhood.
3. DIY Wheat Wreath
If what you're looking for is an elegant, simple DIY front door decor, then your search ends with this DIY wheat wreath. Made out of burlap and dried wheat, it effortlessly embodies the fall and the harvest season.
4. Burlap Bubble Fall Wreath
This burlap bubble fall wreath may seem elaborate, but in reality, it's very easy to make. Grab some fabric fall leaves and burlap, then wrap it around a wire wreath for fall rustic charm to grace your front door.
You might also want to try this tutorial on how to make a burlap wreath for fall.
5. Circle Pumpkin Wreath
Who knew mini pumpkins could look so elegant? Grab a handful of twigs with dried leaves, then use a glue gun to shape it into a wreath, and adhere the little pumpkins into a circle.
This circle pumpkin wreath can transcend holidays; it can stay hanging for the whole fall season.
6. DIY Fall Wheat Sheaf Wreath
This paramount fall door decor is as beautiful to look at as it is super easy to create. All it requires is a handful of wheat, a rubber band, and some ribbon.
7. Paper Dahlias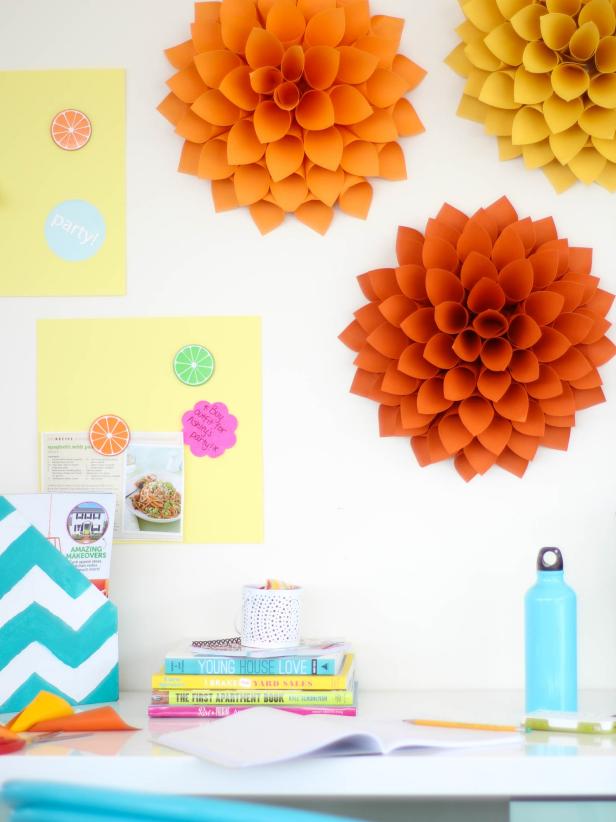 If you're feeling a bit crafty, put together a couple of these large DIY paper dahlias for a youthful and fun fall look. You can mix and match coordinating colors to make an interesting fall display.
8. DIY Witch's Hat Door Decor
Transform an ordinary witch's hat into a unique festive hanging door decor. Fill it with flowers, fruits, and leaves in fall's moodiest hues.
Place it on the front door for the perfect mix of fall and Halloween flair, making a creepy and whimsical decor. Make sure to embellish it with a witch's best buddy: a scary, nasty chubby rat.
9. Chalkboard-Style Fall Wreath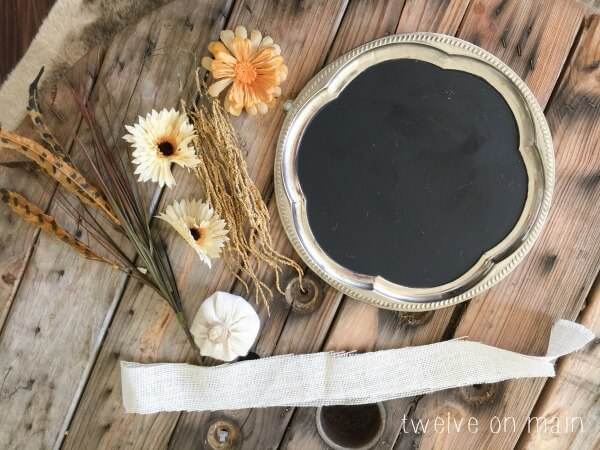 Like me, I'm sure you will fall in love with this chalkboard style fall wreath. If you have an old silver tray waiting for a new lease of life, perfect.
Go ahead and transform it into this amazing fall wreath with just a bit of chalkboard paint and some stunning fall foliage. Write down your warm fall welcome greeting, and change it daily to capture the warmth of the season.
10. DIY Rake Fall Wreath
Draw on earthy shades of red, yellow, orange, brown and green for a simple fall wreath or ornate "porch scape." The possibilities are endless, but the season is not, so start crafting your DIY fall door decorations today.
Jazz up an old and rusty rake with some burlap, twigs, and leaves. Then, hang it on your front door. It is surely bound to bring about some compliments from friends and family. Festive, original, and a cinch to make!
RELATED: How To Make A One Hour Harvest Wreath | Fall Wreaths
11. Basket of Fruits
The fall season signifies the abundance of nature. If picking apples is your favorite activity, hang a basket of apples for a seasonal display.
You can also use pumpkins or other eye-catching produce. Opt for some synthetic varieties rather than the real one to keep the basket light and durable for the whole season.
12. DIY Falling Fall Door Decor
This adorable DIY falling fall door decor displays the fun pun of the season. Using some vividly vibrant letters and ribbons, make this fun project and enjoy the delighted laughs from your guests and neighbors.
13. Fall Owl Wreath
Hoot hoot! Autumn is here! With some fake flowers, ribbon, and buttons, transform a simple wooden wreath into a clever owl!
Make sure to make the eyes big and don't forget to add the beak for a more realistic owl.
14. Hanging Painted Pinecones
If you're looking for the perfect way to let your kids pitch in with the fall door hangers, look no further! Simply enjoy a morning walk with your kids and gather some pinecones along the way.
Once you get home, paint your pinecones with beautiful fall hues and hang it on your door. Painted pinecones are a simple and gorgeous way to dress up your door.
15. DIY Fall Leaf Door Decor
Buy some from the nearest craft store or make it on your own! All you have to do is cut out some fall leaves from construction paper, spell out the word "FALL", and place it on your door.
You are not always required to use wreaths as welcome door decor — wall hangings like these are just as wonderful.
16. Easy Autumn Leaf Wreath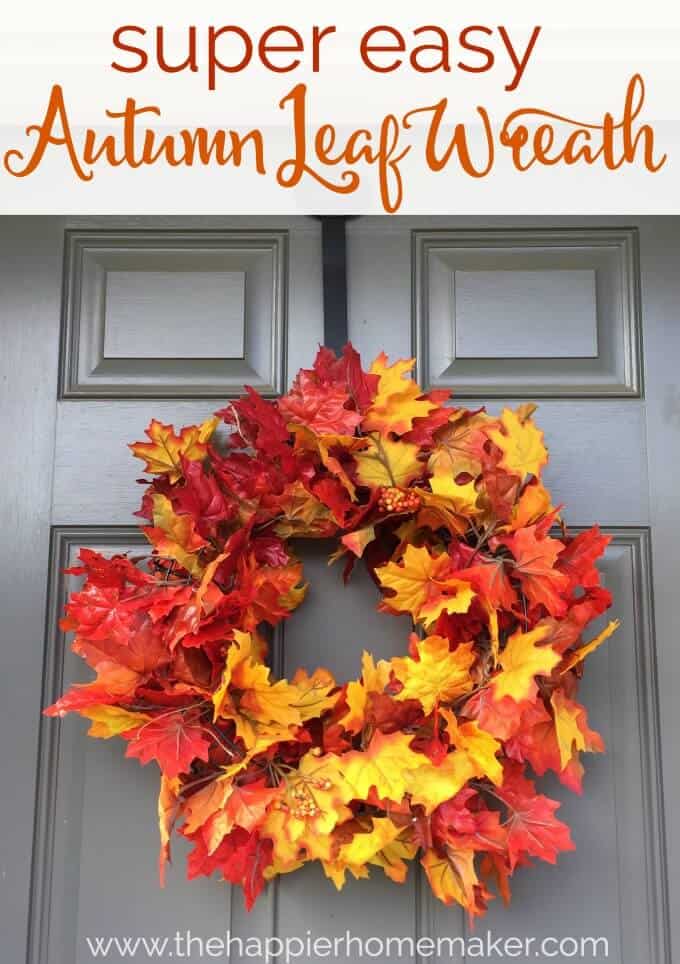 Running out of time to create a wonderful door decor to welcome fall? Don't fret!
Your problem is solved with this easy autumn leaf wreath. Made out of fabric autumn leaves and wire wreath, this will be up and ready in just 5 minutes.
17. Fall Flower Can DIY Door Decor
I'm sure you have a tin can at home — go grab it and spruce it up with ribbons in fall hues, making it a beautiful vase for the arrangement of wonderful fall blooms. Then, simply hang up your flower can door decor in your front door or porch and enjoy!
18. DIY Faux Copper And Felt Leaves Fall Wreath
Purchase some felt fabric in a variety of vibrant fall colors and cut them to form leaves. Use wire as stems, and wrap the leaves around the wire wreath for a colorful, happy, and fun fall decoration breaking from fall's traditional warm hues.
19. DIY Apple Fall Door Wreath
You can use plastic apples or the real ones, whichever you prefer. Either way, you'll have the same stunning fall door decor.
Use some burlap to hang your wreath and you'll get lavish fall door decor representing the abundance of the harvest season. Unique, gorgeous, and ruggedly natural!
20. Farmhouse Door DIY Decor
When fall comes, we love to feel the country's warmth even those living in the city. Recreate this farmhouse door and experience the country charm right at your doorstep by framing your front door with an eye-catching leaf garland.
21. DIY Door Decor And Porch 'Fallscape'
Create a door and porch "fallscape" with hay, a dried corn stalk, ladder, pumpkin, burlap material, and anything else you can get your hands on. You're sure to catch your neighbors' eyes with these fall porch decor ideas.
Got 15 minutes? It's all you need for this DIY fall door decor. Watch the video tutorial here from If You Want It D.I.Y:
Don't you just love fall? It allows you to get crafty and creative with all the decorating you can get your hands on.
Show off your fall spirit to the whole neighborhood with these fall door decorations. From wreaths to door hangers, catch everyone's attention with these DIY fall door decorations.
Let everyone know how ready you are to celebrate this season. Have fun with your fall decorating this season!
Did you enjoy this roundup of cozy fall door decorations? Let us know which DIY project you'll be trying today in the comments section below!
Up Next:
Stay connected with us on Facebook, Twitter, Pinterest, and Instagram!
Editor's Note: This post was originally published on October 10, 2017, and has been updated for quality and relevancy.