Go for gifts in a jar you can easily DIY this Christmas, so you can give presents to everyone without going for broke!
RELATED: 32 Mason Jar Crafts You Can Make In Under An Hour [2nd Edition]
Unique Gifts in a Jar Ideas You Can Make Last-Minute!
1. Snow Globe Gifts in a Jar
https://www.facebook.com/DIYProjects/videos/965577020242218/?_rdc=1&_rdr
Complete your friend's Winter Wonderland home decor with these DIY Snow Globes! Trust me, they'll adore this gift!
2. Milk Bath Gifts in a Jar
|

Make your loved ones feel your love by giving them something their skin would love as well. Try giving them a skincare treat in the cutest possible way with this homemade milk bath for a relaxing holiday.
3. Mason Jar Soap Dispenser
|

Mommies will appreciate your thoughtfulness and creativity with this soap dispenser in a jar DIY! It's such a cute addition to a kitchen or bathroom sink.
4. Mason Jar Playdough Snowman in a Jar
|

Kids will be delighted to receive this unique playdoh in a jar. These are so cute, you can even keep a jar or two for yourself!
5. Girls Weekend Gifts in a Jar
|

Thinking of something sweet for your gals or sisters? We'd recommend this DIY gift idea. It's a jar full of thoughtful things to make them feel comfy during their time of the month.
6. Homemade Hot Fudge in a Jar
|

It's safe to say food gifts in a jar hardly get old. This hot fudge in a jar is a great gift idea for serious chocoholics out there!
7. Golden Pampering Kit in a Jar
|

Here's a great way to remind our friends and families to take some time to treat themselves. This pampering kit is just an overwhelming gift for Christmas—something luxe and soothing in one!
8. Sewing Kit Gifts in a Jar
|

For friends who have just entered the world of sewing, they will fall in love with this sewing kit in a jar gift idea. This is a fun way for them to keep their sewing essentials in easy reach!
9.  DIY Table Topper Snow Globe
If you don't want to keep 'em hanging, you can have them stand upside down. Make Christmas decor extra special with a DIY snow globe.
10. Cookie Cutter Set in a Jar
|

If baking is your cardio, this would surely be the best addition to your kitchen. This cookie cutter set looks awesome inside a jar and is an oh-so-cute gift for cookie lovers and aspiring bakers out there.
11. DIY Bath Snowballs in a Jar
|

Give your loved ones the gift of relaxation—all in the convenient packaging of a jar. You can make these bath snowballs in any shade you like, but light blue makes these gifts in a jar look more cool and refreshing.
12. Organic Mason Jar Terrarium
Gifts in a Jar Ideas and DIY! Organic Mason Jar Terrarium | https://t.co/AGkt2PktKF https://t.co/wQ1FnhZsdN pic.twitter.com/KEnpDnUnl5

— Home, Fashion & Lifestyle (@fashionandhomes) May 22, 2017
Succulents are all the rage in the gardening world! They're low maintenance and add a modern tropical touch to your home, plus they're very easy to make.
You just have to arrange layers of pebbles and sand, put the plants atop, sprinkle some water, and voila! A mason jar terrarium you can give as gifts or keep for yourself.
Terrarium Definition: A sealable glass container that can store plants and soil and can be opened for access to what is inside.
13. DIY Gift Card Snow Globe
|

Level up your gift card presentation this holiday. How to do it? Just put it in a jar and add some festive touches inside.
14. Gel Air Freshener in a Jar
|

This gel air freshener will make every house smell incredible, like a Williams Sonoma store. It is simple, budget-friendly, and looks absolutely pretty.
15. Drawing Kit in a Jar
|

Give this colorful gift idea to someone who loves art and doing creative stuff. Put a card or a simple note and tie it with twine around the jar to make it sweeter and more personalized.
16. DIY Spa Trio in a Jar
|

This spa trio includes a body cream, a sugar scrub, and a foot soak. Another perfect pamper-yourself gift in a jar for those who love body and skincare items.
17. Dog Bone Biscuits in a Jar
|

Got friends with pets? Hand them a jar full of goodies for their furry buddies.
Don't splurge on store-bought, try these homemade dog treats instead!
18. Manicure Set in a Jar
|

A mason jar filled with hand creams, nail polish, a nail file, nail polish remover, nail cutters, and other cute essentials to pamper your hands and nails. This DIY manicure set makes the best girly present for teenagers.
19. Taco Soup in a Jar
|

This is such a delicious gift for the serious foodie in your life. Be generous and pack a big jar with their favorite food and goodies.
You're making them and their tummies very happy!
20. Citrus Bath Salt Gift in a Jar
|

If your mom (or sister perhaps) loves a good soak during bath time, add this citrus bath salt to her collection and she'll surely love you and her bath time even more.
21. Summer Gifts in a Jar
|

Prep for summer with everything you need and put them in this sunny and cute jar. This holiday gift idea is best for people who love the sun, beach, and sand!
22. DIY Galaxy Gifts in a Jar
|

You must try making this whimsical galaxy in a jar. Aside from it looking so gorgeous, it is also very easy, fun, and inexpensive.
This gift idea is perfect for your friends who love stars and other celestial bodies.
23. Homemade Laundry Soap in a Jar
This cutie will be loved especially by neighbors, homemakers, and college teens who have just moved into their new apartments and planning to do their own laundry!
No need to pay a premium for laundry soap again with this easy DIY gift.
24. Winter Survival Kit in a Jar
|

Be winter-ready with this unique winter set you'll need for the chilly weather. Craft this survival kit for anyone and make them feel loved.
25. DIY Book Page Mason Jar Candle Holder
|

With a little touch of creativity, you can transform a simple candle holder into a fabulous holiday gift to give to a special someone.
26. Wine Lover's Gift in a Jar
|

Share the good times this holiday season with this big jar full of cute bottles of wine and other cool wine-themed gear. These gifts in a jar will always be the perfect choice for your wine enthusiast friends.
27. Apron Gifts in a Jar
|

This dainty and simple gift idea is best for mommies and even grannies who love to bake and do their magic in the kitchen. You can also include a simple recipe to make it more endearing.
28. Potpourri Gifts in a Jar
|

For a sweet-smelling home, this potpourri in a jar is an ideal gift for the holidays. Everyone will absolutely love its pure and natural scent!
29. Crafting Kit in a Jar
|

As you visit the nearest bookstore in town, don't forget to grab some cute craft supplies. Include an ink pad, clips, tape runner, chalk marker, stylish glitter tape, chalkboard gift tags, and letter stamps.
Arrange them in a jar and see how you've just made the sweetest present for all crafters on Christmas day.
30. Bird Lover's Gift in a Jar
|

What could be the best holiday gift to a bird lover if not this DIY gift in a jar filled with birdseed and a beautiful bird and nest topper attached to the lid? It's a unique and aesthetically pleasing gift for everyone who loves birds and nature a lot!
RELATED: Mason Jar Crafts | Creative and Useful DIY Projects
31. Mint in a Jar
|

Looking for mason jar gift ideas for teachers this Christmas? This mint-filled mason jar a fun and a pun-tastic way to cheer them up on the holidays!
32. Peppermint Mocha Java Jar
|

As a self-proclaimed coffee lover, how can anyone resist drink mix gifts in a jar like this? For your friends who can't live without coffee, this java jar would be the sweetest treat ever!
33. Date in a Jar
|

This gift in a jar idea is probably the most clever gift to give to someone very close to your heart.
Everything in this jar involves cute things about a date. Any concept will do as long as it's sincere and sweet.
34. Cupcake Gift Jar
|

No one can resist a yummy cupcake treat inside a cute jar on Christmas day. This cupcake gift jar is the simplest yet prettiest way to delight everyone during the holidays.
35. Bulb Mason Jar Gift
|

Hand out this unique mason jar gift to those plant lovers in your life. It's easy and quick to make.
With this DIY project, you're making people get closer to nature even more!
36. 52 Things A Year in a Jar
|

A heartfelt gift idea you can give to your wife, husband, or best friend. It's a jar full of 52 sweet messages, memories, and wonderful things about them.
On Christmas, show your loved ones how much they mean to you with these gifts in a jar idea.
37. Movies & Popcorn Mix in a Jar
|

For all the movie lovers you know, here's a jar loaded with cinnamon popcorn mix to make the perfect snack for a stay-at-home date night. This popcorn mix in a jar is inexpensive and very accommodating!
38. Miniature Golf in a Jar
|

Thinking of something sweet for a golf enthusiast? Why not try this miniature golf in a jar? It's like a jar of good memories secured in a safe place.
39. Homemade Salsa in a Jar
This tasty jar of salsa makes a delicious gift for all foodies out there. Not to mention, this is not too costly and easy to prepare.
Just be ready with a bag of chips when everyone calls for a movie night.
40. Hugs and Kisses in a Jar
|

No doubt, this is literally a jar of kisses this Christmas, dear (and hugs follow after receiving them!) This all-time favorite treat can actually be done in minutes.
41. Gingerbread Playdoh in a Jar
|

This beautiful brown homemade dough with a rich aroma (just like real gingerbread!) makes a cute gift in a jar. Kids will surely adore this gift in a jar playdoh.
42. Salty Caramel Sauce in a Jar
|

This rich and creamy caramel sauce is great for dipping apples into during the crisp winter months, making it a perfect gift this holiday season. Simple homemade gifts like these are simply the best.
43. Christmas Treat Jar
|

Here's a jar full of no-bake Christmas Chex Mix bursting with Christmas colors and sweetness! It's a fantastic DIY gift in a jar idea with a free printable Merry Christmas tag.
44. Lavender Bubbling Bath Salts
These soothing bath salts make a fantastic gift idea this holiday! With a calming lavender scent, your friends will love this simple yet awesome gift in a jar.
45. Vegetarian Soup Mix in a Jar
|

Your health buff buddies will surely thank you for considering their diet in a festive mood like Christmas. Throw in some gifts in a jar soup recipes for a healthy Christmas treat!
46. Peppermint Fudge Cupcake in a Jar
|

Scoop up this three-layer taste of heaven—cupcake, ganache, and frosting. Decorate and dress up the jars any way you want to and they're set for giving! This delicious fudge will truly wow your family and friends.
47. Just Marshmallows in a Jar
|

This is one of the easiest last-minute gifts in a jar ever! Marshmallows in a jar are the cutest. It's very simple but you can tell that someone gave this gift some thought.
48. Homemade Bath Bombs Gift in a Jar
|

These pretty simple and fun DIY bath bombs are such great gifts to put in a jar that your friends can use over a period of time. Including a set of instructions to use these bath bombs would also be great.
49. Tea Time Mason Jar
|

Just like coffee, tea has a special spot in our hearts, especially during winter. On Christmas, make a tea lover the luckiest to receive this jar packed with tea and other tea-drinking needs.
50. Herb Candles in a Jar
|

A candle in a jar makes the perfect gift for your girlfriends. They can use it as decor in their bedroom or living room.
Or, light up these gifts in a jar when they're enjoying some quiet time in the bathtub.
51. Reindeer Noses Mason Gift in a Jar
|

These jars are just so beautiful you can certainly keep one for yourself. These whimsical gift ideas will absolutely bring holiday cheer to everyone because that's what it did for us!
52. Homemade Apple Butter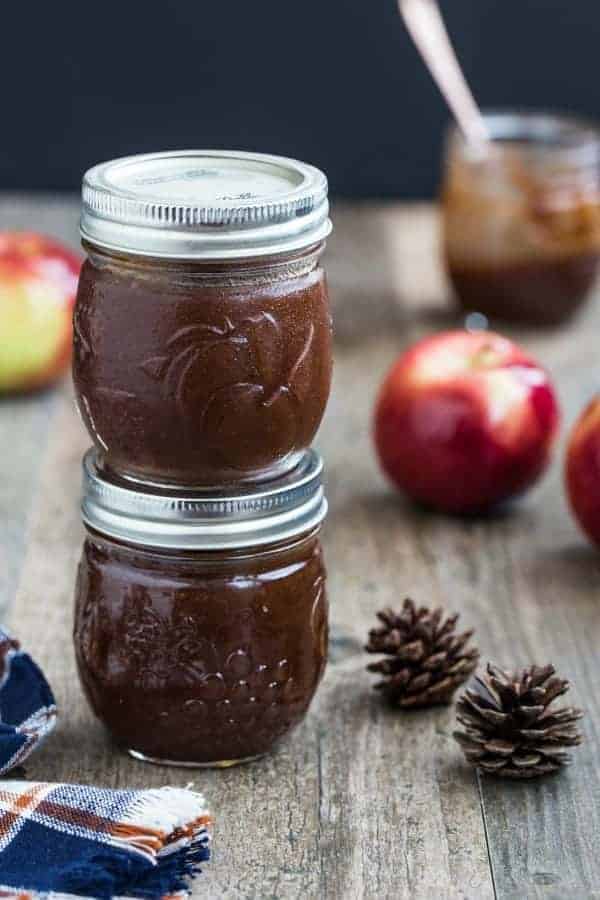 This apple butter fix will tease your taste buds. A delightful and sweet gift idea for everyone who loves apple and fall season.
53. Aromatherapy Vapor Shower Disks in a Jar
|

Make these shower disks somebody's bathtime buddy every time they shower. It will provide them the gift of relaxation with its pungent yet soothing aroma.
54. Herb Kit Gift In A Jar
|

I remember seeing a herb kit exactly like this one in my sister's apartment. A friend had given it to her.
It inspired me to include this herb kit in a jar on this list, I thought it would be a cute holiday present for anyone with a green thumb.
55. Mulled Wine Kit in a Jar
|

Winter season is also the perfect time for mulling. That's why this lovely mulled wine kit would be perfect for your friends and relatives who make mulling a tradition every Christmas season.
56. Beauty (Pampering) Kit in a Jar
|

What most girls would want to receive comes together in one neat package. This spa in a jar products gift idea is pretty simple.
Just put in everything like lipstick, mini lotion, sweets, and nail polish—all is set and good to go!
57. Homemade Cranberry Tealight Candles in a Jar
What a witty way to flaunt a tealight candle in your home! Everyone will definitely admire these homemade cranberry tealight candles, especially candle lovers.
58. Mason Jar Hot Chocolate DIY Christmas Gifts
If you are to give food gifts in a jar, why not something they can whip up themselves? Here's everything they need to make their own hot chocolate—all in one jar.
59. DIY Lover Gift in a Jar
|

This jar is chock-full of must-have supplies for a DIY lover like me. And for those aspiring crafters out there, this kit is the best Christmas gift to help them get in on the action.
60. Car in a Jar Snow Globe
|

This magical little jar will always be a part of the Christmas season. And handing out this car in a jar to someone will be a great addition to their snow globe collection!
Watch this video from Tammi Craft for another Christmas craft using mason jars, this Christmas:
Remember, gifts need not be expensive. Like we always say, "it's the thought that counts". Also, customizing the gift you're giving to someone makes it even more heartfelt.
It is why these gifts in a jar are perfect during the holiday season. They're all cute, creative, and easy to make!
Which of these gifts in a jar ideas are you most excited to DIY and give away? Let us know in the comments section below!
Up Next:
Stay connected with us on Facebook, Twitter, and Instagram!
Editor's Note: This post was originally published on May 7, 2018, and has been updated for quality and relevancy.