Give away handmade calligraphy Christmas cards this year and receive lots of love from old souls who appreciate tradition, like classic Christmas cards!
RELATED: 10 Creative Gift Packaging Ideas | Christmas Gift Wrapping Ideas
In this article:
Handmade Calligraphy Christmas Cards You Will Love
1. DIY Modern Holiday Greeting Cards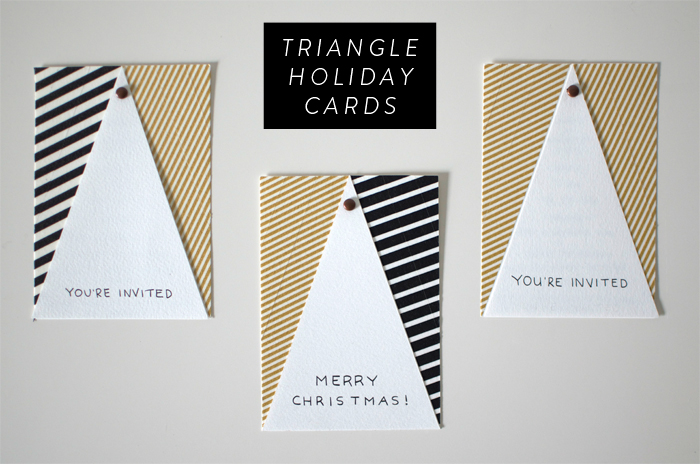 This modern geometric Christmas greeting card has just the right touch of elegance. It's also a Christmas card idea where you can showcase your calligraphy designs.
Don't worry about your writing skills because it makes it all the more personal and the card design will take care of the aesthetics for you. What a wonderful way to send holiday wishes and even invitations to your loved ones this holiday season!
2. Simple Calligraphy Christmas Card
There's just something about the simplicity of this card that's truly captivating. You don't need to be a calligraphy expert to make this simple calligraphy Christmas card.
3. Calligraphy Christmas Tree Card
Write the words "Merry Christmas" in calligraphy and cut them out to make a pattern to form a wonderful calligraphy Christmas tree card. Invest in this calligraphy pen set and turn this calligraphy skill into a side business.
4. Little Folding Book
Anyone will be surprised by what this little book has inside. This little Christmas folding book is a beautiful and unique way to show the warmth of your love to your family and friends.
5. Quilling Calligraphy Christmas Card
Find quilling, interesting? This quilling calligraphy Christmas card puts a personalized touch to your handmade cards.
What is Quilling? It is a type of craftwork involving neatly shaped and folded paper or fabric strips to create a design like flowers, leaves, and other things.
6. Bright-Colored Calligraphy Christmas Card
This would be the perfect personalized Christmas card for your girlfriends. Just write your message in a fresh and festive style using vibrant colors.
They'll love the burst of colors in this bright-colored calligraphy Christmas card for sure!
7. Cute Little Christmas Cards
Aren't they the cutest handmade Christmas cards you've ever seen? I have never thought the combination of these little tiles and calligraphy could create fantastic results!
You only need to draw an image you want on the little ceramic tile, glue it on your card, and write your message in calligraphy style below the tile!
 8. Artistic Ornament-Themed DIY Christmas Card Tutorial
If you're up for some relaxing artwork, this easy piece of art lets you paint and apply calligraphy. There is always something extra special in presents you put effort and time to make, and this handmade card will definitely be appreciated.
9. Sweet Christmas Card
Conveying your holiday greetings with a cup full of sweetness is a wonderful idea! So, here are some simple calligraphy ideas for your homemade Christmas cards.
Indeed, this would make the best card if you're gifting DIY hot chocolate mix, too!
10. Simple Calligraphy Christmas Tree Card
Get your calligraphy pen out and start working on this Christmas tree calligraphy card! You only need to play with squiggles and swirls to create simple yet eye-catching cards.
It takes some practice with your calligraphy supplies, but you'll eventually get your groove!
11. Brush Lettering & Hand Painted Christmas Card
Painting a holiday card by hand with gouache gives these holiday cards a unique colorful texture. Different colors of paint are used to create the effect.
What is Gouache? It is a paint method characterized by the use of opaque pigments. These are colors mixed with water and a binding agent making the shades less transparent.
12. Christmas Dove Card
Give greetings of peace this holiday season with this easy homemade Christmas card. Send your loved ones a Christmas greeting with this swirling script design, sure to delight them.
RELATED: How to Turn Old Holiday Cards Into DIY Gift Tags
13. Easy Merry Christmas Card
A personalized Christmas card doesn't always have to be over the top–often simplicity is all you need.
I love the translucency of the red ink which says, "Christmas." It lets the block lettering outlines show through.
14. Cut-Out Ornament DIY Holiday Card Tutorial
We have here a Christmas card craft where calligraphy applies well. We are going to make this wonderful Christmas card cut-out ornament for your Christmas tree or Christmas decor.
Get your calligraphy game on and let's create this Christmas card ornament.
15. Circular DIY Christmas Card Tutorial
Give your handmade Christmas card a new shape in this circular DIY Christmas card. This is a fancy DIY craft project we are sure you are going to have lots of fun working on!
16. Little Triangular Card
Put your Christmas message on the pages of this adorable little triangle card. Make this card and once you see the result, you'll definitely be proud to send them out to all your family and friends.
17. Red Christmas Tree Wish Card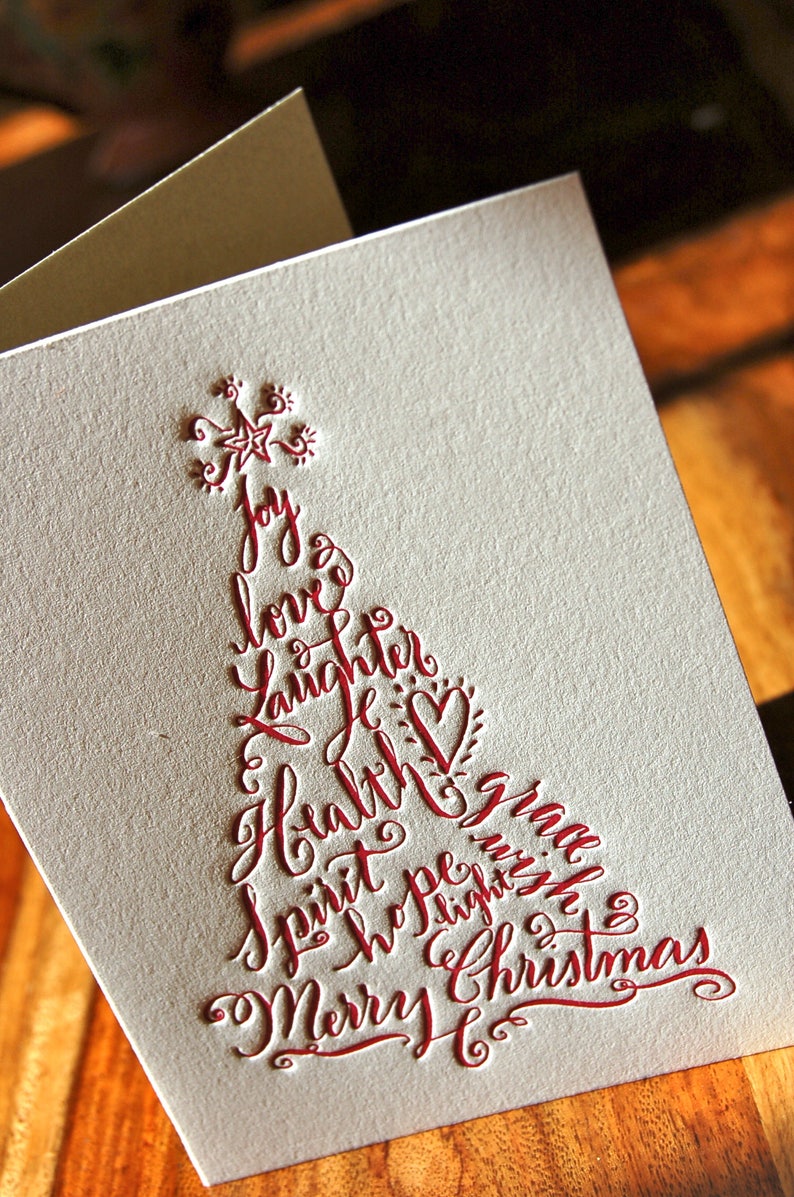 Write everything you wish for your family and friends in calligraphy and shape it like a Christmas tree. Then, take this red Christmas tree wish card idea, we are sure will bring smiles to every recipient.
18. Calligraphy Snowflake Card
This is such a great touch. Pick out the words you want and write it in calligraphy, forming a circular snowflake shape.
A simple Christmas card idea anyone would love indeed. This card is a perfect opportunity to reconnect with your loved ones whom you haven't seen during the year.
19. Handmade Snowflake Gatefold Card with Embossed Calligraphy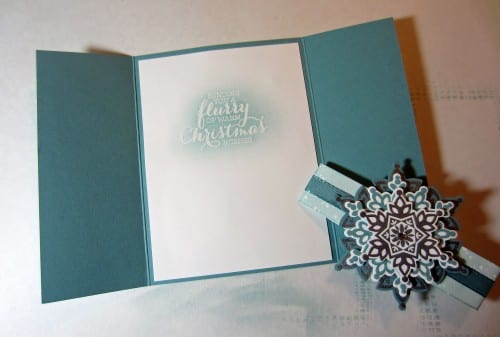 And I just can't seem to get enough of snowflakes in handmade calligraphy Christmas cards. But, this calligraphy card idea will take your crafting skills up a notch.
It's quite a challenge but definitely worth it–might even be worth some cash, if you know what I mean. Follow the step-by-step tutorial on how to make a handmade snowflake gatefold card here.
20. DIY Black and Gold Bauble Christmas Card
These colors are just truly elegant for a Christmas card and a striking deviation from the common red and green. It is a pretty straightforward take on calligraphy, but interesting with its charming simplicity.
21. Embroidery Floss Christmas Tree Card
Wrap some DMC floss around the card to form a Christmas tree, then, write your holiday greeting for your friends and family. Use your choice of calligraphy fonts, instead of using a date/number stamp and ink pad to add a more personalized touch to your Christmas card.
22. Simple Hand-Drawn Calligraphy Christmas Card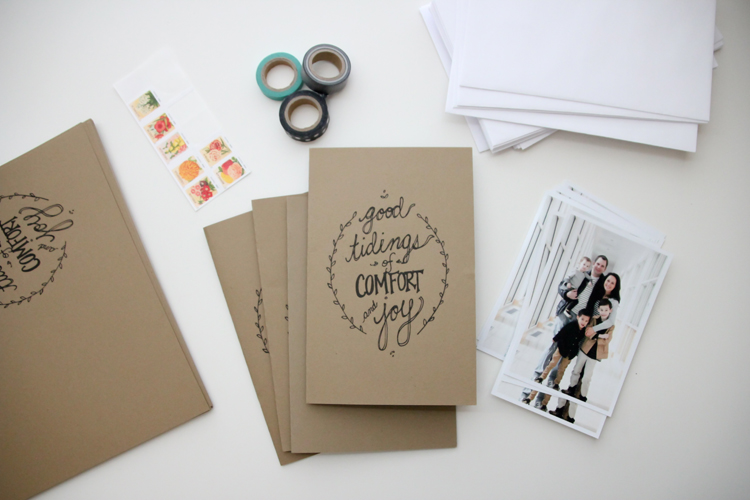 Looking for easy Christmas calligraphy designs? We'll give you something better with this DIY Christmas card with free printable calligraphy design.You can put your personal touch with a fancy paper or other embellishments to the handmade card.
Still, need some more handmade calligraphy cards for Christmas? Check this video from Smitha Katti and learn how to make a 10-minute hand-painted holiday card:
Now, with Christmas right around the corner, it's time to send out Christmas cards to all your loved ones. Thus, these handmade calligraphy Christmas cards (which are quick and easy to make) are just your thing.
You can follow these calligraphy card ideas up to letter or you can add some personal touch. So, grab your pens or calligraphy supplies now and start creating!
Did you enjoy this list of handmade calligraphy Christmas cards? Let me know in the comments section below your thoughts on these DIY Christmas card ideas!
Up Next: 
Stay connected with us on Facebook, Twitter, Pinterest, and Instagram!
Editor's Note: This post was originally published on December 21, 2016, and has been updated for quality and relevancy.