Try these DIY felt balls projects and you'll love these cute and fuzzy craft materials even more!
RELATED: How to Make Felt Balls
Cool Felt Balls Projects That Are Fun and Easy to Make
1. Felt Balls Garland
Create a felt ball garland nursery and decorate with felt balls while baby-proofing your baby's room. Make this super easy felt poms garland so you can make your nursery even cozier.
2. Felt Ball Trees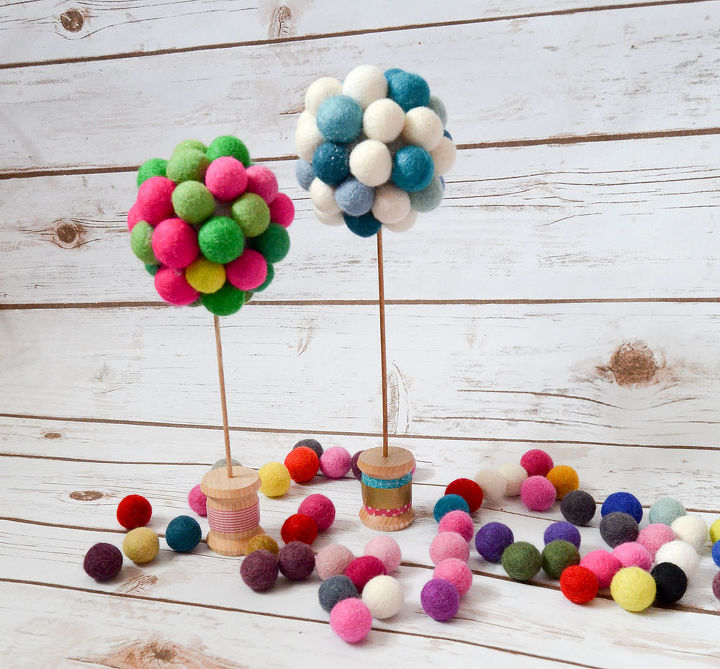 Your crafting nook needs some styling too, and nothing could be more fitting than these felt ball trees sitting on wooden spools. In fact, my own craft room looks like a fancy craft studio with this decor on my sewing table.
3. Felt Ball Necklace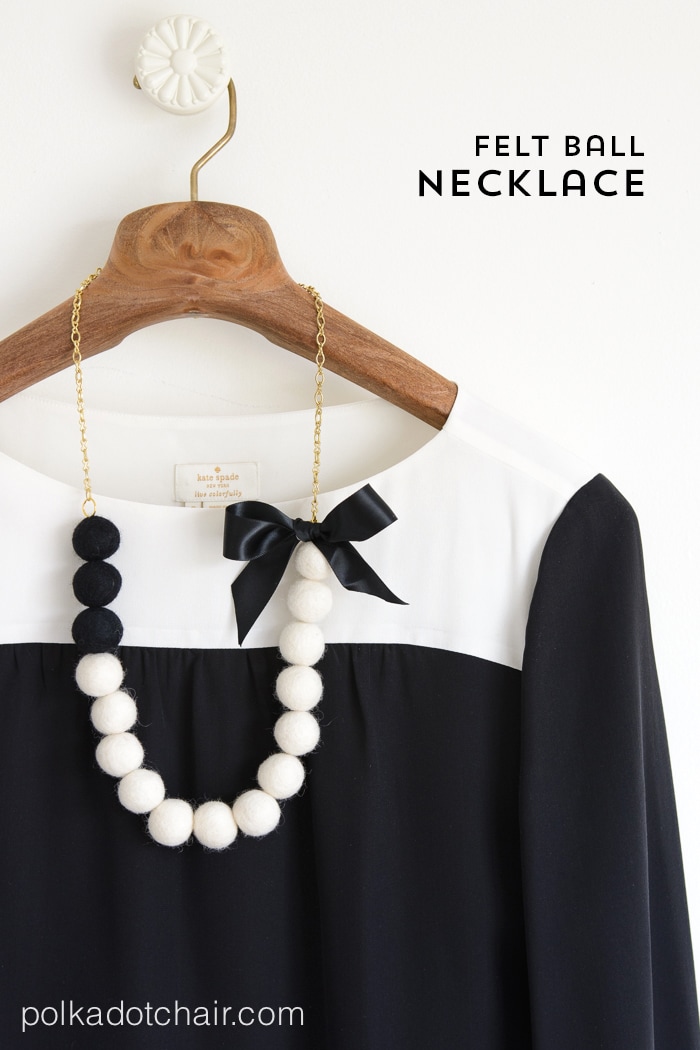 Here's a DIY necklace you can make in just 10 minutes and with minimum expense. This should give you a matching accessory for your ensemble all the time.
4. Felt Ball Coasters
You only need tiny felt balls, cork coasters, and glue to create these lovely and colorful coasters. Start sticking the felt balls one at a time, starting exactly on the center, going all the way around. In three minutes, you can be done with one cute felt ball coaster.
5. Autumn Billy Ball Posy DIY
No decor can be more simple yet interesting all at the same time, than these Autumn billy ball posies.  It's also an inexpensive craft project even beginners can venture to make.
6. Round Felt Ball Pillow DIY
This DIY round felt ball pillow complements any couch! RT if you agree! https://t.co/mlV28NaNnC pic.twitter.com/caH91aDzfU

— Reflections at the Park (@ReflectionsPark) January 3, 2017
Getting bored with your plain regular pillows? Then get on the trend and decorate your round pillows with pompoms!
7. DIY Felt Ball Wreath
Create an inviting vibe to your home any time of the year with this DIY felted wreath. You can do that with very few materials and about an hour's worth of your time.
8. DIY Felt Acorns
Easy Felt Ball Craft Decor | DIY Felt Acorns by DIY Ready at http://t.co/ROVuomnDOu http://t.co/Ggw25zGLxc pic.twitter.com/Ct7fdQ4DYc

— Inventive Housewife (@bravozulo_08b) June 14, 2015
Imagine the things you can do with these little adorable acorns. You can turn these felt balls projects into decor, accents to your dress or tops, and even necklaces or earrings.
9. Felt Ball Spring Grass Centerpiece
Oh, my heart just melted at the sight of this spring grass centerpiece with felt balls. Of course, I went right on DIY mode and it blended well with my living room decor!
RELATED: How to Make DIY Wool Dryer Balls
10. Denim and Wool Felt Ball Hair Clips
DIY Felt Ball Craft Ideas and Inspiration | Denim and Wool Felt Ball Hair Clips by DIY Rea… http://t.co/CoaYN3SBS6 pic.twitter.com/HTxb8W6221

— Inventive Housewife (@bravozulo_08b) June 10, 2015
This DIY accessory will look lovely on your little girls, for sure. You can customize these felt balls projects to match each girl's preference.
But best of all, they'll appreciate your thoughtfulness.
11. Felt Ball Round Rug
Rugs and carpets can be somewhat costly, but thankfully, you can make one on your own. Better yet, make one on your own easily, by using felt balls like this cozy and comfy homemade rug.
12. Pussy Willow Rainbow
Brighten up any corner with this DIY pussy willow rainbow. Just gather some small branches, attach your felt balls and put it in a vase, done!
13. Felt Ball Mobile
Babies love round objects— that's a fact. This felt ball mobile has got to be the cutest DIY mobile I've seen by far.
14. Felt Ball Bracelet
First off, learn how to make felt balls from merino wool, then you can learn how to make felted wool jewelry, after. Now you can make colorful bracelets with felt balls and glass beads—as many as you want!
15. DIY Pom Pom Curtain
It may take some time, but this DIY curtain with felt balls is totally worth it. Here's a tip: Work on how to make felt balls from yarn, first.
On your downtime, make a couple or more, until you think you have all you need to create your lovely and colorful pompom curtain.
16. DIY Earrings
Like tassels, pompom balls are also super trendy accessories these days. But, instead of buying these sometimes expensive accessories, why not make a few pairs on your own?
17. Felt Ball Trivet
DIY Trivet Project with Felt Balls by DIY Ready at http://t.co/ROVuomFfd4 http://t.co/hsW8VlK7XP pic.twitter.com/t34AkddShE

— Inventive Housewife (@bravozulo_08b) June 10, 2015
Give your kitchen the pop it needs with these homemade trivets. This easy project follows the concept of our DIY coaster project here, but this time we are using bigger, then the smallest, DIY felt balls.
18. Felt Ball Ornament
#DIY Felt Flower #Christmas Ball #Ornament

See more of #handmade_Craft_ideas : Subscribe 🙂https://t.co/jQ29x7vHQk pic.twitter.com/DmcKaS8nrV

— handmade4all (@handmade4all_co) October 13, 2015
It's never too early to make Christmas ornaments. In fact, I think it's a year-round affair, so this DIY ornament from felt balls is perfect any day.
Watch this video from Club Chica Circle on how to make felt balls 2 ways:
There you have it, bubbly crafters! Adorable felt balls projects you can make on your own or with your kids.
These felt balls projects will take no more than a few minutes of your time. So, if you need easy, last minute decor, gift and craft ideas, they're all that and more!
Which of these felt balls projects are you eyeing on for your next crafting session? Tell us all about it in the comments section below!
Be sure to stock up! Click HERE to Buy our FAVORITE washi tape on Amazon!
Up Next: 

Stay connected with us on Facebook, Twitter, Pinterest, and Instagram!
Editor's Note: This post was originally published on June 10, 2015, and has been updated for quality and relevancy.