Washi tape DIY projects are fun and easy to make, so we've rounded up 100 creative uses for this tape for your own crafts!
RELATED: 4 Awesome Gift Wrapping Ideas | Gift Wrapping Tutorials
In this article:
Creative Uses for Washi Tape You'll Have Fun Working On
1. DIY Pencil Cup
Need an easy DIY washi tape craft for kids? Here's an easy pencil cup they'll have fun making on their own, indeed.
You can buy the tape for cheap at Walmart, Target, and even Amazon. You can also have your kids pick out the best tape to design their pencil cup.
2. Easy Flower Vase Decor
Whether you decide to line the top or the bottom of the vase, a pop of washi tape will give you a unique piece. Here's an idea: How about giving all your vases that same signature look?
No products found.
3. DIY Customized Page Dividers
Here's a cool DIY project to make for school and to keep your kid's subjects colorfully organized. This way, they'll know exactly which page to turn to when they start taking down notes.
It doesn't just stop with just one or two. There are a lot of washi tape ideas for school your kids can try making at home.
4. Washi Tape Bookmarks
Save your books from folded pages by using a bookmark the next time you finish reading. Start by cutting one of the corners of an envelope and wrapping your washi tape around it.

5. DIY Food Picks
Make your own food toppers by sticking a piece of washi tape on a toothpick. You can even cut out a little triangle at the end to make it look like a flag.
6. $1 Dry Erase Frame
Turn any old frame into a dry erase board! First, stick the tape on the top clear piece and then place it back inside the frame.
Voila! Now you've got a message board the whole family can use.
7. Washi Tape Twist
Use these twist ties for your party favors. Simply sandwich a piece of wire in between two strips of the tape and you're all set!
You can use one washi tape set or several of them depending on your party's theme.
8. Pinwheel Flowers
Bloom your own pinwheel flowers with this DIY project. To make sure the stems stay straight, stick the straw into some play dough that will build resistance and keep the flower from toppling over.

9. Butterfly Crafts
The secret to pretty butterfly wings lies in the choices of the tape's designs. Try placing the tape strips in a horizontal direction because it is the easier way of aligning the design on both of the wings.
10. DIY Dot Wall
The trick to making perfect circles for your dotted wall is to use a protractor set.
Don't have one lying around? Get a small glass and go around its base using a pencil.
11. Cord Organization
This cord organizer hack may save you a lot of time because you no longer have to keep guessing which cord is which. It's as simple as wrapping a bit of the tape on the cord and making a mark on it.
12. DIY Wooden Bracelets
Kids will love these DIY wooden bracelets. To make the popsicle sticks bend, simply dip them in water for at least 2 days so they'll be malleable and won't break easily when bent.
13. Washi Tape Messages
You never know when someone might need a few words of encouragement. So start this DIY project by printing out messages in different fonts.
14. Pretty Tin Cans
These upcycled tin cans make use of different materials for varied textures. As with any DIY project, start with a concept and style in mind, so you can narrow down the items and colors you'll be using.
15. DIY Magnets
Now you can make magnets in any size, shape, and color you want. Always remember to cut shapes bigger than your magnet so you won't have a piece of magnet peeking out from behind.
16. Easy Plant Marker Tutorial
Don't worry if you don't have a label maker to make these plant markers from Creative Green Living. You can simply write on the washi tape-covered clothespins using a regular black Sharpie.
17. Creative Clothespin
We've found it's best to find washi tape rolls that have the same width as the clothespins. Doing so lets you forego any cutting and reduces the time spent making these clothespin magnets.
18. DIY Geometric Heart
Start this DIY by thinking about the proportions you'd want for the geometric heart. Once you've decided, make an outline using the tape with a ruler to get the exact measurements for both sides of the heart.
19. Washi Tape Wrapped Pencils
This DIY pencil design is as easy as pie because all you have to do is cut the tape to the length of the pencil. Press down on the tape afterward to let it cover one side and then repeat the process for the other side.

20. Easy Washi Wall Art
This washi wall art DIY only makes use of black tape and is a great accent for any bright-colored room. It also makes use of a simple triangle design, which makes it easy for practically anyone to make.
21. Faux Rubik's Cube Necklace
Accessorize your outfit with this faux Rubik's cube necklace you can DIY. We love how this DIY doesn't tell you to cut out the squares one by one but teaches you a super simple yet neat little hack, instead!
22. Gift Tassel
To make this gift tassel, start by cutting strips of the tape and folding them over lengthwise. Make sure no sticky sides are showing once you fold them.
23. Word Garland
This project's secret lies in its template and a variety of the tape's colors and designs. Once you've got the template, simply cover the letters you need in washi tape and then cut them out.
24. Washi Tape Letters
You can choose to stick with a strict pattern or go freestyle for these washi-taped monogram letters. We recommend letting your creativity shine but stick to a theme to make it look more cohesive.
25. Simple Bookbinding Notebook DIY
DIY your own notebook with the help of simple bookbinding that is fully customizable. Not only will you be able to select the notebook cover and design, but you can also choose the size and paper texture for the pages inside.
26. Herringbone Cellphone Cover
Pick washi tape rolls in 3 complementary colors or patterns to make your herringbone cellphone cover. Since the herringbone design can already be busy on its own, we suggest sticking to the tape's plain designs and focusing on a color scheme instead.
27. Tea Lights
Glam up an ordinary tea light by wrapping some of the tape around its base. Make this project from Alexismel TV easier by finding a tape that has the same width size as your tea light.
28. Washi Tape Keyboard
This DIY project is perfect for those who already know their keyboard by heart. Simply stick on squares of the tape to the keys and soon, you'll have an eclectic gadget full of personality.
29. Flower Pot
A rim of washi tape on a flower pot makes for a super chic succulent. We can definitely see this being displayed in an office or a bedside table.
30. Feather Washi and Paper Earrings
Who knew you could make earrings out of washi tape? By the way, don't forget to sandwich the wire hook in between the two strips of the tape so you can attach the feather piece to the jump ring.
31. Decorated Hangers
The trick to personalizing these hangers is to make sure the strips are only placed in one direction for the whole project. If you start applying in a vertical manner, then do the same until the whole hanger is covered.
32. DIY Cactus Wall Art
If you're crazy about wall art, then we've got another DIY project for you. This cactus design was made with three different colors of the tape to add more color and depth.
33. Flower Pens
These DIY flower pens look even classier with their gold and silver washi tape wrapped stems. Doesn't it just give it a more finished and elegant look?
34. Pompom Garland
This pompom garland craft from Duck Brand can be your last minute go-to decoration. Make sure your tape strips are the same length when cutting because this will prevent exposure of any sticky surfaces.
35. Paintbrush Box
Mix and match the tape and doodles to create this washi tape box DIY. Start by sticking on your strips of the tape in a design you like and then fill in the blank areas with your doodles.
36. Pendants
Your friends will never guess that your pendant's background was made from washi tape. If you're using black for your initials, we recommend picking a tape design that has a more vibrant color to make the initial pendant stand out.
37. Cups
Add more color to your party with this paper cup decoration DIY by simply applying a strip of the tape around the cup. Now, you've got yourself a pretty looking cup.
38. DIY Photobooth Strip Scrapbook
Organize your photos by making your own DIY strip scrapbook. You can even write little notes on top of the tape strips to help you document your memories.
39. Gift Box
Different items can be used to decorate your gift boxes. All you need is a little creativity, inspiration, and washi tapes and soon you'll have lots of boxes ready for your next party.
40. Flip Wallet
Save yourself a couple of bucks and make this DIY duct tape flip wallet from Simply Duck Designs. Aside from the tape, you may need to get a few rolls of duct tape for this project.
41. Painted Wood Bangle Bracelets
Turn a plain and simple wood bangle bracelet into something more stylish. The tape will help create a stencil for your bracelets, making sure your paint doesn't go beyond the lines.
42. Hair Pins
Create adorable hair pins with any design or color. Make sure to wait a couple of hours before using them so they can dry completely.
43. Globe Upcycle
Make your globe more colorful with the tape and some paint. Be warned, this upcycle project will fuel your wanderlust and make you want to travel the world even more.
44. Washi Tape Light Switch Covers
Swap your drab light switch covers for these fun ones. When taking apart a light switch, we've found that a flat-blade screwdriver does the job well.
45. Word Art
Get more motivation and inspiration with this DIY word art by picking a word you'll strive to live up to for the whole year. Whether it's about your career or having a positive attitude, this DIY project will be a constant reminder for you to be your very best.
46. Magnet Board
Revamp a boring magnet board with some pieces of the tape by picking two opposite corners and decking them out with strips of the tape. Simply tuck the ends in at the back and finish off with glue for extra holding power.
47. 5-Minute Handmade Card
The secret to making this card look even artsier is in the way the tape pieces are laid out. Try putting them in different angles to create a more homemade look.
48. DIY Washi Tape Coat Tree
This coat tree is such an ingenious hack, and it's best to use clear hooks for this DIY. It will make it look like the hats and coats are hanging from the makeshift tree.
49. DIY Wooden Washi Tape Earrings
It's good to have an outfit or style in mind when making these round earrings. That way, it'll be easier to pick a tape design to go with.
50. DIY Illuminated Table Numbers
If you run a restaurant, DIY your table numbers with some washi tape. Once you've decorated the different faces of the table numbers, join the sides with the tape, and you're all set.
RELATED: 19 Cool DIY Photo Booth Props
51. DIY Travel Journal
Document your adventures with a travel journal. You can use the tape to mark the different pages, like dishes to try, sights to see, and photos to take.
52. Kitchen Spatula
Add more color to your kitchen by adding different patterns to your utensils. Mix and match different sizes of the tape to decorate on the handles of your favorite utensils, thus giving them a dash of personality.
Kitchen Spatula Definition: A flat, flexible, and broad kitchen utensil used for lifting, spreading, and mixing ingredients in recipes or foods in general.
53. Washi Tape Mason Jar Solar Lamp
With two DIY projects in one, it may seem like work cut out for you, but if you're up for the challenge, the rewards will be worth it. You'll have fun both designing the mason jar and making the solar lamp.
54. Lamp
If you're tired of how your lamp looks, play around with some washi tape. For this project, you can choose to line either the lampshade or the base of the lamp or perhaps go all out and line both with the tape.
55. DIY Honeycomb Decal
Create a quirky decal that will look super cool in any room. Since you're going for a honeycomb look, we recommend using the tape in shades of gold and yellow.
56. Diamond Garland
Let this diamond garland show everyone how your home shines bright like a diamond. Make the "jewels" stand out more by using the tape's metallic designs.
57. Washi Tape Key Covers
Color code your keys and you'll never have to scramble looking for the right key to fit the keyhole. Simply stick your tape on the base of the key and trim using a craft knife.
58. Washi Tape Phone Chargers
If you usually forget who owns which charger, this little DIY trick is perfect for you. All you have to do is wrap your favorite washi tape on the plug and you can also switch the design every month if you get bored.
59. Window Treatment
Upgrade your windows by putting a strip of the tape on your curtains. Don't forget to seal the tape into the fabric by applying light heat from an iron.
60. Binder Clips
Let your personality shine with your binder clips. If your washi tape is too thin and see-through, you may want to double up on your binder clips' layers.
61. Wrapping Paper
Personalize a birthday gift with some DIY wrapping paper. You can choose to assemble your washi tape in a design or just stick on different pieces in varied sizes on the paper.
62. Clipboard
Put some personality in a boring brown clipboard with the help of the tape. Try experimenting with different sizes and patterns until you get the look you want.
63. Serving Tray
Prettify your serving tray by decking it out in washi tape strips. If you to make your personalized tray last longer, coat it with a layer of Mod Podge.
64. DIY Laptop Cover
A personalized laptop cover will prevent you from taking someone else's laptop by accident. Whichever design you choose, whether abstract or patterned, the important thing is, you'll know which laptop is yours.
65. Mini Wood Pallet Coasters
Here's a tip, protect your mini pallet coasters from drink condensation by coating on some Mod Podge and clear acrylic sealer. By the way, don't forget to wait until the Mod Podge is completely dry before spraying on the sealer.
66. Striped Frame
If you're using thin washi tape strips for this DIY project, I suggest painting your picture frame white first. That way, you'll have a nice and clean background for your strips of tape.
67. Pickup Sticks
Have some fun with the kids and play a round of Pick Up Sticks. Just make sure you don't skip the step of snipping off the sharp end of the skewer.
68. Chopsticks
Give your chopsticks a creative whirl. Simply wrap the tape on one end of the chopstick, and you're done!
Remember to wrap at the thicker end of the chopstick — not the end you eat with.
69. Wine Charms
DIY wine charms your friends can use for your next together. That way, everyone will know which glass is theirs.
70. Clock
Say good morning and break your habit of always being late with the help of a washi tape clock. It makes for such a great upcycling idea because we love how this project makes use of old Scrabble tiles.
71. Nail Art
Measure a washi tape strip to fit your fingernail and carefully lay it on and trim the excess. Don't panic if you've made any mistakes because a layer of top coat will help hide minor flaws on your nail art.
72. Craft Stick Dolls
Make your kids these adorable craft stick dolls. They can even join in on the fun by helping you dress up the dolls and having them pick their favorite washi tape, too.
73. Washi Tape Makeup Brushes
If you're sharing a room with someone, personalize your makeup brushes with the tape. Know which ones are yours either by covering the handle completely or simply wrapping a strip or two around it.
74. Staircase
Take your this tape projects up a notch with this staircase makeover. A piece of advice, you may want to pick big washi tape rolls for this one because the wider size will help make this project easier.
75. Statement Necklace
This washi tape paperclip necklace is so easy because you can play around with the design by working on a V or a triangle pattern. You can also stack the necklaces for a more layered and sophisticated look.
76. Wooden Table
Turn a boring wooden table into something colorful to make it instant eye candy. If you need help remembering all the rainbow colors, just think of this acronym: ROYGBIV.
77. Washi Tape Clutch
Turn a clear poly envelope into a personalized clutch with this DIY project. Simply remember to paint on a layer of craft sealer once you're happy with your design to prevent the tape from peeling off.
78. Calendar Marker
Mark your calendar with different washi tapes for easier time management. This will help you out when you plan your travels and all you have to do is put a strip of the tape on the dates you'll be out and about.
79. Washi Heart Wall Decor
We strongly recommend using big washi tape rolls for this so it'd be easier to create a square. Don't forget to leave two spaces bare as well, to make it look as if the heart is sparkling.
80. Toy Car Track
Keep kids preoccupied with a DIY car track where you can assign different colors for "road rules." For example, white colored washi tape for the road, green colored tape for parking slots, and red colored tape for the no-parking zones.
81. Ceiling Fan
Put a little quirk in your ceiling fan with the tape. You can use a different design for each of the blades to make it look even more out of the box.
82. Upcycled Mint Tins
We like turning these upcycled mint tins into little emergency sewing kits we can pop in our bags. From what we've heard, they'll make a nifty storage hack for earphones as well.
83. Decorated Candle
Candles will look so much prettier with the tape. When sticking the tape to your candle, make sure to smooth out any air bubbles that may be trapped underneath.
84. Wreath
Need something beautiful to hang on your front door this spring? Make this easy DIY wreath from the tape and upcycled items.
85. Legos
Adding washi to your kid's Legos can be another learning activity for them. Stick on tape with striped and polka-dotted designs and tell your little one to stack both to know which design has more Lego pieces.
86. Bookshelf
A strip of the tape adds a nice personal touch to your bookshelf. Remember to take note of your room's color scheme when selecting which tape to use for this project.
87. Birdhouse Lamp
Most kids are afraid of the dark, so make them a cute little birdhouse lamp they can use as a nightlight. If you can also find a tape design that matches the walls of your kids' room, that would be perfect.
88. Mousepad
Fun Washi Tape Craft Ideas | Washi Tape Mousepad by DIY Ready at http://t.co/AP3A2hq7Q9http://t.co/mlHh7OPQSk pic.twitter.com/XvlGDe9aHu

— Inventive Housewife (@bravozulo_08b) June 9, 2015
If you can't seem to find the right design for your mousepad, make your own with the tape. If you need help trimming the excess washi tape, I suggest using an X-Acto knife to get the job done.
89. Makeup Brush Holder
Keep your brushes organized with this makeup brush holder. This tutorial makes use of both the tape and a white Sharpie to decorate the cup.
90. Chalkboard Frame
Line strips of the tape on your chalkboard frame but remember to go with only one direction for all the sides of the frame, even if it's tempting to do the easier route for the shorter sides. It will look so much better if all directions are uniform.
91. Bike Helmet
We adore how this bike helmet is teeming with personality and the color pink. That's because pink washi tape and the canvas bow stuck at the back makes it look like it is made for a princess.
92. Stationery
This would make for a great DIY project or a gift for your friends because of the classic design. Simply line the top edge of your stationery with strips of the tape and lightly rub the edges with an ink pad to give it off a vintage feel.
This would be great to do together with your washi tape bookmark!
93. DIY Lamp from Cardboard and Washi Tape
Lamps don't have to be expensive, especially if you have this DIY one made from cardboard. Decorate with the tape in geometric patterns and it'll be a gem, indeed.
94. Mirror Frame
This is a mirror frame turned into a work of art. I recommend using a craft knife for this as it's easier to handle and it helps make the cutting more precise, too.
95. Snake Craft
If you're up for some washi tape crafts for kids, you've hit jackpot because this snake craft is simply fun. We've found googly eyes work best for this project, but you can also draw the eyes on with a black Sharpie.
96. Gift Bows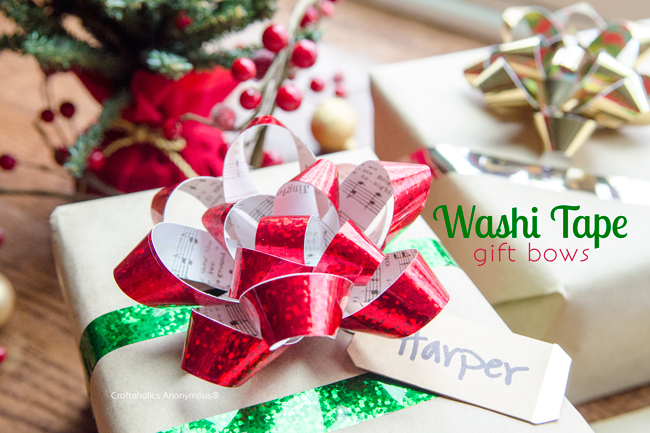 This DIY gift bow is made from layers of curved washi tape placed on top of each other. The more layers you have, the more intricate the bow will look.
97. Pebble Magnets
Create elegant magnets with the tapes and crystal pebbles. Since the pebbles themselves can be small, we strongly recommend using skinny yet strong magnets for this project.
98. 3D Card
A 3D card will look far more superior than a regular card. Just check out this tutorial from Creations with Christina that has a washi flag in its background and also has a cut out on the card to reveal a different pattern underneath.
99. DIY Envelope
Design your envelopes with some strips of the tape so you'll have your own personalized ones. They'll look so chic because your personality shines in each.
100. Chore Chart
Assigning chores will never be a problem thanks to the help of this chore chart. Tell your kids to pick one tape design and have them pick 1-2 chores per day.
Learn how to make your own washi tape! Press play on this video by Fantasvale Art Lab:
Now you see there are plenty of things to do with washi tape! In fact, we're not done yet because we're still on the hunt for this tape's DIY crafts.
So if you have something going, we'd be delighted to know your creations, too.
How do you use washi tape for your DIY projects? Let us know in the comments section below!
Up Next:

Stay connected with us on Facebook, Twitter, Pinterest, and Instagram!
Be sure to stock up! Click HERE to Buy our FAVORITE washi tape on Amazon!
Editor's Note: This post was originally published on July 18, 2018, and has been updated for quality and relevancy.