Looking for eye-catching DIY fall projects? Celebrate autumn with these adorable DIY projects to set your mood for all things warm and cozy!
RELATED: 21 Fall Door Decorations | DIY Wreaths, Door Hangers, And More
DIY Fall Projects You Will Actually Want to Do
You Shouldn't Miss These DIY Fall Projects Before the Season Ends
Give your home a unique and special touch by creating your own fall decorations to bring the warm colors of fall in. With just a few materials you can easily find and some creativity, you can make these easy and adorable DIY projects to end fall with!
In addition, if you're looking to expand your reach – learn to sell these crafts and other homemade projects on Etsy! Happy crafting!
Autumn is one of the best times of the year. The sweltering summer heat gets replaced by cooler nights, which creates the perfect atmosphere for curling up under a blanket and roasting marshmallows by the fire.
Another wonderful part of this season is the multitude of crafts you can make. From mason jars to mod podge, you can enjoy using a variety of supplies to make these ten outstanding DIY projects for fall.
These are sure to keep your home looking fun and festive all season long. Check out these lovely DIY fall projects now!
1. Easy DIY Fall Wreath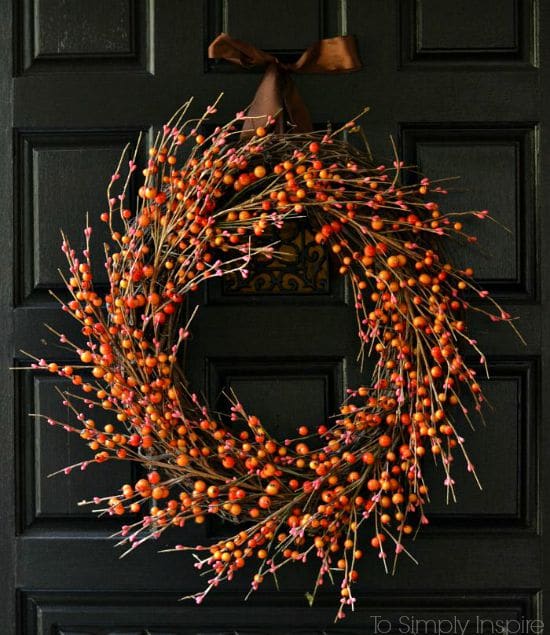 Looking for fall front porch decorating ideas on a budget? Never miss an autumn wreath which is a great way to welcome guests into your home.
They'll be excited for the festivities you have planned before they even step inside.
This wreath tutorial shows you how to make a beautiful traditional fall wreath in just fifteen minutes. This DIY project only requires a handful of materials and is really easy to put together.
It will also keep your door looking fantastic all season. When winter rolls around, you can even put it away and save it for next year!
2. Fall-scented Spice Candles
Fall is full of so many wonderful scents like pumpkin, clove, cinnamon, nutmeg, and more! A great way to enjoy all of the wonderful smells of autumn is to make spice candles.
Click here for step-by-step instructions on how to make them. You can try out as many different scents as you like, and you can even make your own unique combinations.
This project will only take a few minutes, and you can make several at a time so you can share them with friends or just keep the extras for next year.
3. Decorative Fall Leaf Bowl
[instagram url=https://www.instagram.com/p/BoeNJA0l9Jv/ hidecaption=true width=625]
Decorative bowls make great centerpieces, and this one is designed to add a natural hint of fall to your coffee table, dining room table, breakfast bar. This decorative leaf bowl is a fun hands-on project.
It uses artificial maple leaves, so your bowl will look just as great at the end of the season as it did the day you made it. A benefit of this project is you get the flexibility to make decisions about a lot of the details such as size, thickness, color, and more.
4. Pumpkin Flower Pot
It just wouldn't be autumn without some pumpkin decorations, and this pumpkin flower pot is probably the easiest fall DIY project there is! In the past, this idea has been completed with real pumpkins but it takes longer.
When you're using real pumpkins you have to clean them out, and they don't last as long as you would like.
For this variation, you can choose between plastic or styrofoam pumpkins. It saves a lot of time, and you can reuse them year after year.
5. Wood Slice Chalkboard
Nature is even more beautiful during the fall season, so it only seems right to bring some nature indoors. This wood slice chalkboard is a wonderful way to incorporate outdoor beauty with your indoor decor.
Larger wood slice chalkboards can be made into decorative signs to welcome your guests or to count down the remaining days until Thanksgiving. Tiny ones can be made into place cards for dinner or labels for dishes of food.
RELATED: 15 Ways To Decorate Your Home With Pumpkins This Fall
6. Yarn Pumpkins
These yarn pumpkins would make a beautiful centerpiece or mantle decoration.
It's very simple and uncomplicated and it looks lovely hanging from a hook! Make it with this tutorial.
7. Watercolor Paper Fall Leaf and Branch Mobile
They're stunning! Showcase all of the gorgeous colors of autumn with this beautiful watercolor leaf and branch mobile, and hang it on an empty wall.
It only takes about 15 minutes to create this entire stack of gorgeous watercolor leaves. See how you can make it here.
8. Daily Heart
Pick up some twigs from your yard and paint them in any color you want.
Form a heart and tie them with wire and hang it on a wall. Check it out here.
9. Pumpkin Chalkboard
If you are a pumpkin fan, you'll surely love this pumpkin chalkboard everyone in the family will enjoy doodling on. It's an inexpensive way to add a conversation piece to your home this season.
With its detailed instructions, this craft is easy to make. You may use them as fall decor or a fun, fall activity for the kids.
10. Painted Wood Slice Pumpkins
These painted wood slice pumpkins are attractive and are very easy to make! These DIY fall decorations for outside makes your home a little unique and is sure to give a perfect holiday feel.
Still up for more outstanding DIY fall projects? Watch this video from Living With Leah and learn 3 more super easy DIYs to spruce up your front porch for fall:
You can give your home a little taste of fall by choosing just one of these projects or fill it to the brim with all of them. Get creative, and mix and match these fun crafts to welcome autumn into both your home and your heart.
Which DIY projects to end fall with is your favorite? Let me know in the comments section below!
Up Next:
Stay connected with us on Facebook, Twitter, and Instagram!
Editor's Note: This post was originally published on September 3, 2014, and has been updated for quality and relevancy
Jessica Kane is a professional writer who has an interest in interior design and home decor. She currently writes for ECOS Paints, a leading vendor of superior, durable and eco-friendly paints.