These delicious Irish appetizers will make sure you have a memorable St. Paddy's day! If you want some clean and green fun, make these appetizers now!
RELATED: 23 St. Patrick's Day Party Ideas For DIYers
Irish Appetizers to Sate Your St. Patty's Day Cravings
Mouthwatering Appetizers
St. Patrick's Day, Ireland's annual celebration Ireland's patron saint, is fast approaching. Every year on the 17th of March, the world transforms into a lively eye-catching green planet, adorned with all things green—from four-leaf clovers to clothing, to drinks and desserts.
It is only fitting to make Irish appetizers in accordance to the theme of the celebration. If you are planning on holding a dinner party to celebrate, here are the most delicious Irish appetizers you must serve. Let's get cooking!
1. Cheesy Reuben Appetizer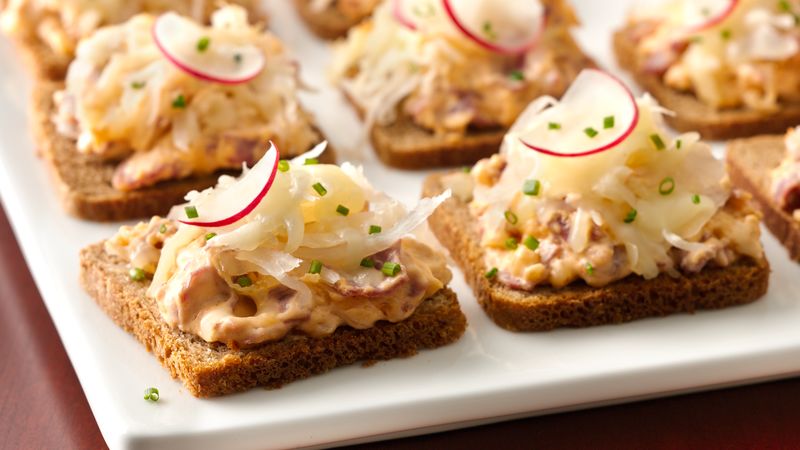 This delicious cheesy Reuben appetizer has corned beef and two types of cheese. If that isn't enough to make you anticipate all the other dishes to come, then I don't know what is.
Also, add some chives when you serve this for extra flavor.
Ingredients:
8 oz softened cream cheese
6 oz shredded Swiss cheese (1 1/2 cups)
1/2 cup sauerkraut (well-drained)
4 oz chopped deli sliced corned beef
1/2 cup Thousand Island dressing
Optional: sliced radishes, fresh chives (chopped), pretzel crackers, slices of cocktail rye bread
Instructions:
Heat the oven at 400°F.
Mix the corned beef, Swiss cheese (1 cup), cream cheese, and dressing. Prepare and spread a 9×1 1/4 pie plate. Top with the remaining 1/2 cup of Swiss cheese, then cover tightly and place it in the refrigerator for 24 hours.
Bake for 15 minutes then serve with cocktail bread. Embellish with radishes and chives.
2. Shamrock Chips
Shaped as four-leaf clovers, these shamrock chips do not only look cute but also taste great! All it takes are some spinach tortillas, a shamrock-shaped cutter, and yellow tomatoes for the salsa!
It's one of those Irish appetizers which makes you feel like you got lucky, indeed.
Ingredients:
1 1/2 tsp lime juice
2 large yellow heirloom tomatoes
1/3 cup onions (chopped)
1/2 tsp salt
Optional: 1 jalapeno pepper, 1/3 cup diced yellow bell pepper, 1/4 cup chopped cilantro, finely minced clove garlic, chives
Salsa Instructions:
Chop ingredients into chunks then toss into blender.
 Squeeze tomatoes a bit for the salsa to have a better consistency.
 Set the blender to the lowest level to prevent over-blending.
 Allow the flavors to combine by placing the salsa in the fridge for an hour.
Shamrock Chips Instructions:
Preheat oven to 375°F.
Prepare 2 to 3 spinach tortilla wraps. One wrap can yield 7 to 8 shamrock chips.
Make a clean cut of shamrock-shaped tortilla wraps with a cookie cutter.
Place the shamrock-shaped cutouts on a cookie sheet, then lightly spray cooking oil mist.
Bake the chips for 5 to 6 minutes or check often before the chips turn brown.
3. Irish Cheese Fondue
This Irish cheese fondue is the perfect trick to get your kids (and guests) to eat their greens on your St. Patrick's Day celebration. Irish appetizers are not only tasty, but they're also really clever!
Ingredients:
1 cup of apple juice
6 cups of shredded sharp cheddar cheese
2 cloves minced garlic
2 tablespoons of butter
boiled red potatoes
2 tablespoons flour
crusty bread
broccoli and cauliflower (cut to small pieces)
Instructions:
Melt butter in a saucepan, add garlic then saute for 30 seconds or until soft.
Sprinkle a little flour with constant whisking until the mixture thickens.
Slowly add apple juice then whisk until a smooth mixture is achieved.
Add 2 cups of cheese at a time and stir.
Cook over low heat until the cheese melts, then move to a slow cooker.
RELATED: Make Your Own Green Beer For St. Patrick's Day
4. Cheddar and Guinness Dip
The Guinness and cheddar in this amazing dip create a combination you will remember well after St. Patrick's Day! Serve it with your preferred light crackers or tortilla chips.
Ingredients:
8 ounces softened cream cheese
2 1/2 cups sharp cheddar cheese (shredded)
2 tablespoons half and half
1 teaspoon Dijon mustard
1/4 cup Guinness draft beer
kosher salt
2 tablespoons fresh parsley (chopped)
dash of Tabasco
2 chopped scallions
Instructions:
Combine the cheddar, cream cheese, half & half, and mustard in a food processor.
Sprinkle in a pinch of kosher salt then pulse until combined.
Pour in the beer, parsley, scallions, and hot sauce, then pulse again.
Transfer mixture to a bowl and chill for an hour. Allow the dip to warm at room temperature until slightly soft, then garnish with a pinch of chopped parsley. Enjoy!
5. Irish Egg Rolls
These crunchy rolls are expected to disappear from the trays in a flash! With carrots, potatoes, corned beef, and veggies mingling to create a distinct savory taste, who could resist?
We're all weak at the knees for Irish egg rolls!
Ingredients:
1 cup of shredded cabbage
4 ounces corned beef (chopped)
1 cup shredded carrot
1 cup of cooked diced potatoes
salt and pepper
1/2 cup onions (thinly sliced)
1.5 quarts vegetable oil (for deep frying)
8 pieces of egg roll papers (7-inch square)
Instructions:
Heat the oil in a deep fryer to 375°F.
Mix the onions, carrots, potatoes, cabbage, and corned beef in a large bowl, then season with salt and pepper.
Lay the egg roll papers on a clean dry surface.
Place 1/2 cup of mixture on each wrap, roll up into logs, then wet the edge of the wrap to seal.
Fry the rolls for 5 minutes or until golden brown. Remove from oil then drain on paper towels.
Want to see the full article?
These Irish appetizers for St. Patrick's Day look SO good, right? What are you waiting for? Get up and start making these scrumptious Irish appetizers and enjoy your fun-filled holiday. Have fun cooking!
Which of these Irish appetizers is your favorite? Let us know in the comments section below!
UP NEXT:
Stay connected with us on Facebook, Twitter, and Instagram!
Editor's Note: This post was originally published on March 2, 2017, and has been updated for quality and relevancy.