Declutter your life and earn a little profit while doing so with these cute recycle soda cans! Not only will you help yourself, you'll also make Mother Nature proud.
RELATED: 10 Tin Can Crafts DIY Ideas
10 Cute Recycle Soda Cans to DIY and Sell | DIY Projects
Recycle Soda Cans That Will Delight Any DIYer
Any DIYer knows you can make extraordinary masterpieces out of the most mundane things. Recycled soda cans are a testament to that!
Soda cans are manufactured in millions and have become so commonplace, we don't realize the waste they become and how much space they take up. Thank goodness for projects that recycle soda cans!
If you happen to be a DIYer with an inclination for chilled beverages, then this is a win-win situation for you. Try these amazing recycle soda cans and spread the joy by selling them!
1. Soda Can Flower Wall Art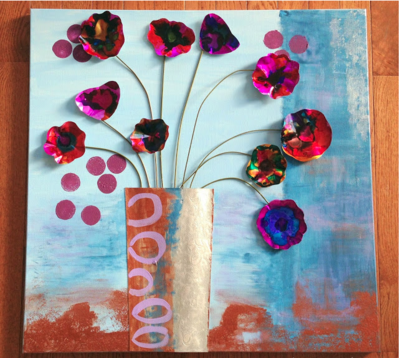 The elite world of art may disagree, but we can reuse aluminum cans to make beautiful art. Just take this soda can flower wall art for example.
Just be careful when making this project since it involves hand-cutting the soda cans.
2. Soda Can Tab Drop Light
This is simply breathtaking among all the recycled soda can art projects you can create. Don't fret: it looks difficult to make, but actually just requires some glue and your standard plastic lampshade.
This soda can tab pendant light also looks big but its size is cute enough to be brought to a fair and be sold!
3. Soda Can Lantern
Why spend money on expensive lanterns? If you know the basic method of slicing open soda cans, you can easily know how to make soda can lanterns!
The hack is using a screwdriver to push the sliced strips outward. I'm sure no one wants to spend their money on expensive lanterns too so do them a favor by selling these!
4. Soda Can Heart Earrings
If you want the world to know your love for soda, then this soda can heart earrings are for you!
Easily one of the most adorable ways to recycle soda cans. No doubt they will sell because they complement almost any look!
5. Soda Pop Tab Ladybugs
Now you can encourage the kids to recycle soda cans with this project! It can easily be accomplished with soda can tabs and a marker.
Sell these soda pop tab ladybugs to children and I assure you you'll make their day!
RELATED: 15 Impressive & Easy DIY Recycle Projects For Your Home
6. Soda Can Candle Holder
Recycle soda can for your art fair with this soda can candleholder!
Just make a good petal template made of cardboard and use it to cut the soda can tin. Sell this candle holder for a little profit and make a DIYer happy!
7. Soda Can Keychain
You can recycle soda cans to help you and many others remember where your keys are! You can effortlessly make and sell this soda can keychain just by disassembling it using a regular can opener and cutting heart shapes out of the tin.
8. Soda Can Vase
Somewhere out there, someone's planning a party. You can help them out by making sure they spend all the extra money on food because recycled soda cans have their back!
Make and sell this soda can vase by simply removing the top part of the can and using metallic spray paint.
9. Soda Can Flower Decors
Complete your party decoration with some soda can flower decors!
Recycle soda cans and cut it to the shape you want. Wear protective gloves and finish the project with the spray paint of your choice!
10. Soda Can Cookie Cutters
Investing in bakeware can be quite expensive, so sell these soda can cookie cutters to aspiring bakers for a low price!
Just borrow an original cookie cutter to use as a pattern for cutting the can. Tape the two edges together and voila!
You're ready to bake some cookies!
Watch this video from Awesome Ideas to learn how to make butterflies using recycled soda cans:

Repurpose soda cans and get your cash box ready because I have a feeling people will go crazy over these recycled soda can projects! Who knew recycling could be this fabulous and profitable?!
Now channel your inner DIYer and get to work. Remember, it's "recycle soda can," not "recycle soda can't!"
Which of these DIY ideas do you think will be a favorite? Let us know in the comments section below!
UP NEXT: 

Stay connected with us on Facebook, Twitter, and Instagram!
Editor's Note: This post was originally published on March 15, 2017, and has been updated for quality and relevancy.